Ok, I've been away for a while. I've been working. I've been cooking, too, but I haven't hit on anything fantastic for a while. I am preparing for a long-awaited trip to Portugal, and I'm kinda freaking out about getting into a bikini. Scary stuff. So, in a push to lose 5 extra pounds before I hit the beach in 6 weeks, my meals are all usually some mixture of whole grains and vegetables and tofu. Nothing you want to hear about.
I'm really not in the habit of denying myself, and I generally eat healthy enough to stay trim without really working out. I hate diets and I will go to my death proclaiming that healthy food doesn't have to suck. Just because we
have
to eat doesn't mean it's our job or that we shouldn't
enjoy
it. I'll figure something out soon to share with you that's healthy and staggeringly, knee-buckling delicious. Promise. I've got some ideas... so once work lets up a bit and I am no longer awake until 2am playing with my data analysis software (Nerd Fact: it's because I think it's fun and I just can't stop), I am so on it. Work comes first, but a promise is a promise.
In the meantime, I'm going to tell you about these strawberry preserves. I grew up on a farm, which is something that as a child, I always seemed to want to get away from. Now that I've been a big-city girl for about 10 years, I can't believe how much I miss the country. So I went to a U-Pick strawberry farm just outside Atlanta. I tromped around in the dirt. It made this farm girl happy. Before I knew it, I had a big 5-gallon bucket full of lovely strawberries.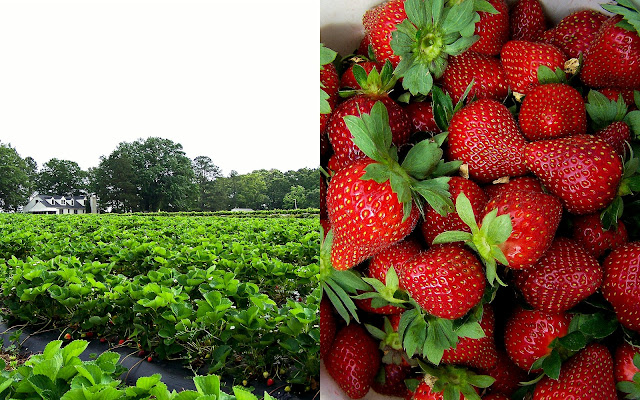 I had never made preserves before this batch, and while it was really hard work (mostly due to the canning), here are a few reasons you should try it, too.
Homemade preserves are seriously awesome.
They make really nice gifts, tied with ribbon and cute hand-written labels.
The little popping sound the Ball jars make when they seal, as you sit on the couch resting your tired-from-standing-over-the-stove legs, is maybe the sweetest sound in the whole world. You will never forget it.
Did I mention they're stupidly delicious?
Standing apron-clad in your kitchen, stirring big pots on the stove while listening to jazz music on a Sunday morning, makes you feel close your grandmother and closer to home. At least that's what it did for me.
You can put them on ice cream. You can put it on crostini smeared with softened fresh goat's cheese (a seriously amazing appetizer). You can have it with a toasted and buttered English muffin. You can plop a spoonful on top of some rustic seeded bread for a yummy snack. Here they are with crostini and goat's cheese:
Balsamic & Black Pepper Strawberry Preserves
from epicurious.com
2 cups strawberries (about 1 pint), trimmed and quartered*
1 1/2 cups sugar
3 tablespoons balsamic vinegar
3 tablespoons water
1 teaspoon cracked black pepper
In a small heavy saucepan bring all ingredients to a boil, stirring, and skim surface. Simmer mixture, stirring and skimming foam occasionally, 15 minutes, or until thickened and translucent. Remove pan from heat and cool preserves completely. Preserves keep, covered and chilled, 1 month.***
*Oh, a little trick. Hulling loads of strawberries is a drag. I trimmed the tops off, then I bootstrapped and used one of those straws from a plastic water bottle (about 1cm in diameter) to hull the berries before quartering them.
***The recipe as written yields about 2 cups of preserves. I of course recommend canning these if you (like I did) want to multiply this recipe times infinity.